WHAT THE HELP SAVE THE BUTCHERS PROGRAM IS ALL ABOUT
 RUNNING A GREAT MEAT DEPARTMENT JUST ISN'T GOOD ENOUGH YOU NEED AN OUTSTANDING MEAT DEPARTMENT.  FIND OUT WHAT REALLY MAKES YOUR MEAT DEPARTMENT STANDOUT.
LEARN HOW TO CREATE A BUTCHER SHOP ATMOSPHERE WITHOUT INCREASING LABOR.
LEARN UNIQUE MARKETING PROGRAMS THAT CHAIN STORES CAN'T COMPETE AGAINST.
LEARN HOW TO TAKE YOUR COMPETITIONS CUSTOMERS OUT OF THE MARKET PLACE.
SIZE ISN'T EVERYTHING, EVEN SMALL STORES CAN COMPETE AGAINST THE CHAINS AND SUPERSTORES WHEN IT COMES TO PERISHABLE DEPARTMENTS.
LEARN HOW TO MAKE CUSTOMERS BYPASS THE COMPETITION JUST TO BUY MEAT AT YOUR STORE.
LEARN MARKETING METHODS THAT GIVE YOU A LOW PRICE IMAGE WHILE INCREASING YOUR GROSS PROFIT.
IF YOU HAVE A GREAT MEAT DEPARTMENT WE WILL HELP YOU MAKE IT THE BEST MEAT DEPARTMENT.  IF YOU HAVE A GOOD MEAT DEPARTMENT WE WILL HELP YOU MAKE IT GREAT.  IF YOUR MEAT DEPARTMENT HAS ROOM TO GROW, WE WILL GIVE YOU THE BASICS THAT PUT YOU ON THE RIGHT PATH TO BE GREAT.
LEARN HOW TO BECOME THE EXPERT IN YOUR MARKETPLACE WHEN IT COMES TO FRESH MEAT.
You'll get the Exact Ad Copy and TV Spots That Have Your Customers Waiting in Line to Buy Fresh Cut Meat!
Get Double Digit Growth!
Increase Meat Sales = Increase Gross Profit $
AN INCREASE OF ONLY $5,000/WK IN MEAT SALES AT 30% GROSS PROFIT WILL YIELD AN ADDITIONAL $78,000 /YR IN GROSS PROFIT DOLLARS.
HSTB PROGRAM HAS POTENTIAL TO HELP YOU ACHIEVE THIS AND MUCH MORE.
THE HSTB PROGRAM WILL SET YOU ON A PATH THAT COULD LEAD TO DOUBLE DIGIT GROWTH.
Business in a Book
Your Step By Step Formula for Double Digit Growth Potential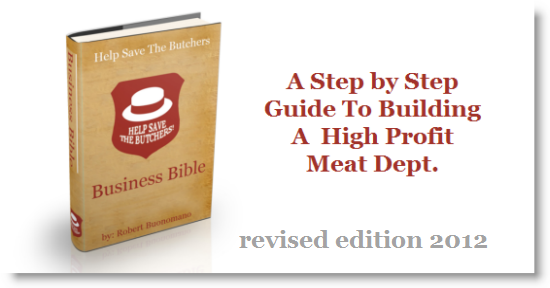 Plus You Can Get Your Very Own HSTB Web Site To Promote To Your Customers
We handle all the Updates and Hosting for You
ADD to this the Complete HSTB Program, with step by step information and TV ads and Copy that helps a 12,000 square foot store have weeks where meat sales exceed $150,000.00.
You get all this and much more for ONLY: $1,199.00

Press Below to Join